Introducing the all new Room Booking Module - Manage your Room and Hall booking with ease
We've completely overhauled our Room Booking module, builting on requests from users, and adding brand new functionality. If you hire out your rooms at church, you don't want to miss this update.
We are excited to announce the latest version of our Room Booking module. With tools to manage all of your Room and Hall Hires, from setting up and creating as many different rooms as you need, setting costs and prices and recieving bookings from your website, all the way up to taking payment for these bookings and contacting your clients. The new Room Booking module provides tools for all of this, to make sure you have control of every aspect of your Room and Hall hires.
What do you need to do to access Room Booking?
The best thing is you don't need to do anything to enable the new Room Booking! We'll be adding this to your account as soon as it's released. If you've already set up and are using the current version of Room Booking. We'll make sure all of your Bookings and Rooms are translated into the new version for a seamless cross over.
Does this mean that the cost of iKnow is going up?
Absolutely not. We're constantly working to improve iKnow Church and develop new tools and grow how we can better help you and your Church Administration. We don't charge for these updates, and they will be applied to your account directly.
Take a closer look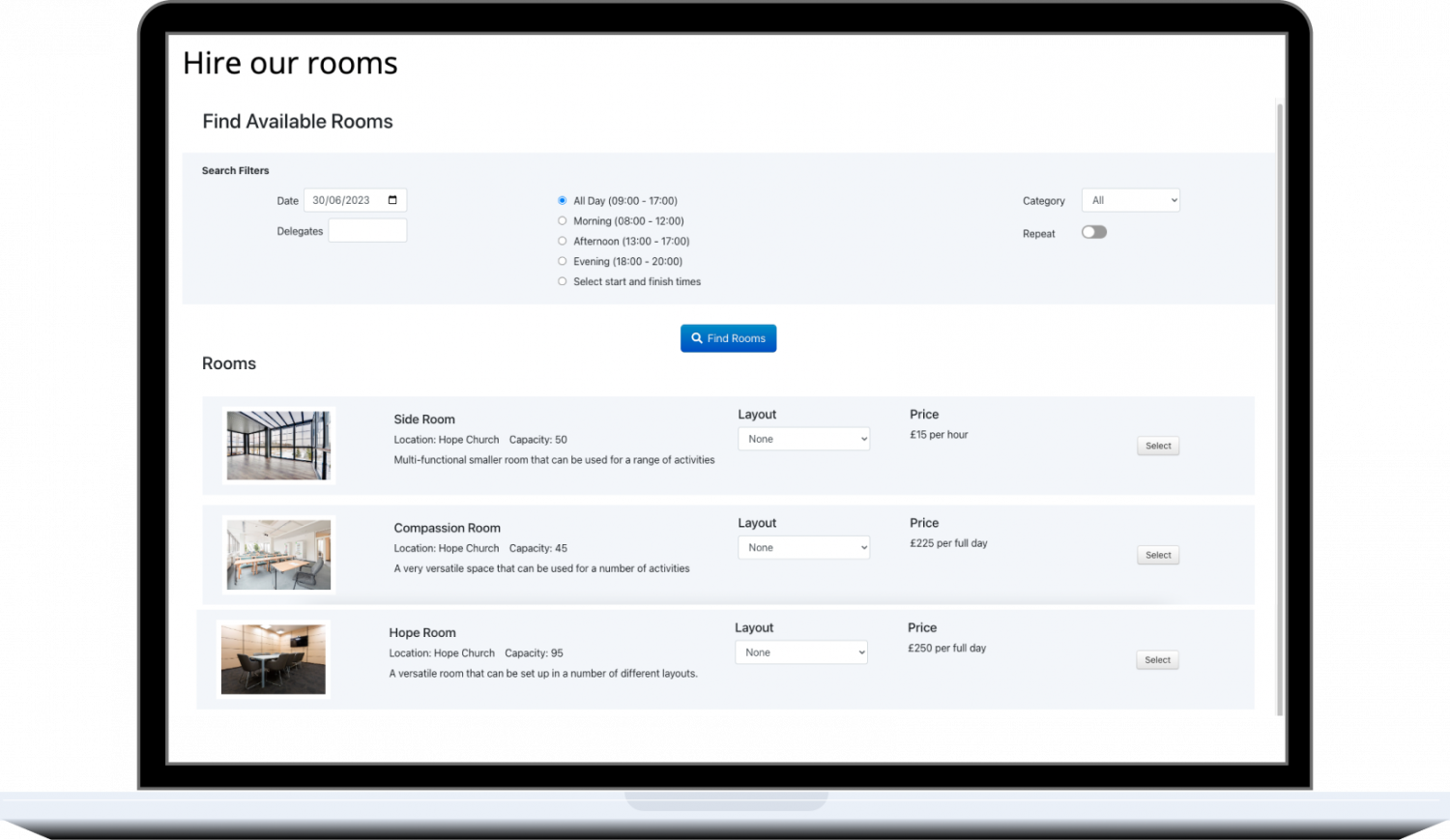 Create and set up your rooms, your way
Set up as many rooms as you need, add an image, so that your hirers can see what they're hiring before booking. Set up your layouts, create Extras and set your own prices for these.
Book Multiple Rooms
Do you have a booking which needs multiple rooms, or have an expanding room for hire? Now you can book assign multiple rooms to a single booking.
Accept or Decline bookings
Add a booking form to your website so that others can see when your rooms are available and make a booking. Add on settings so that you can be notified when a booking request comes in and choose whether you wish to accept or decline the booking.
Take Payment for Bookings
Receive payment for your Rooms directly. As soon as a booking is approved, payment can be completed, and money received into your Bank Account*
Feedback Form
If you have any feedback about this new feature, we would love to hear from you